The Precision Eye Institute
Thank you for visiting our website! At Precision Eye Institute, our mission is to give you the highest quality eye care at a comfortable family friendly atmosphere. We strive to give our patients the most up to date technology and services in all of Volusia County. From eyeglasses to cataract surgery, we look forward to taking care of all your eye care needs. Our eye care professionals specialize in the most advanced technology intraocular lenses sheet cataract surgery as well as laser cataract surgery.  We also offer in office laser glaucoma surgery.
Now offering two locations to serve you – Edgewater and our newest location in New Smyrna Beach – Venetian Bay.
Check out the Hometown News article on Dr. Krajnyk and the Precision Eye Institute.
Dr. Orest Krajnyk – Education
Undergraduate Degree in Biology from Rutgers University, New Brunswick, NJ

Medical Degree Rutgers Medical School, Piscataway, NJ

Internal Medicine Internship, Riverside Regional Medical Center, Newport News, VA

Ophthalmology Residency, Brown University, Providence, RI     
Dr. Krajnyk understands the importance of being engaged by allowing each and every patient to ask questions and feel comfortable

Dr. Krajnyk enjoys spending time with his two children and wife. In his free time he is an avid gardener and enjoys regular exercise. And of course living in Florida, the Krajnyk family often enjoy the sunny weather and the beach!
From Contacts to Cataracts…
Let Precision Eye Institute meet all your eye care needs, and exceed your expectations.
At Precision Eye Institute, we pride ourselves not only in providing our patients the best care possible and superior customer service, but also making visits more convenient by meeting all of your optical needs in once location.  Not only does Dr. Krajnyk provide the medical eye care you need, we offer routine eye care and supplies, including contacts, and a wide variety of popular frames and sunglasses.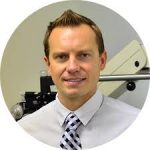 Most people who are preparing for cataract surgery may have been advised they will still need glasses.  At Precision Eye Institute, this is not always the case with our patients.  We have available to us, the newest lens implants that are able to provide near, intermediate and distance vision, EVEN if you have astigmatism!  
Patients with astigmatism that are having cataract surgery are provided with the most advanced astigmatism correction technology. With the new state-of-the-art Callisto Analyzing System, by Zeiss, we are able to get the most precise results after our cataract surgery that can provide patients with glasses free living.
Click here for more information about ZEISS Eyeglass Lenses
Even if you do need glasses after surgery, or are simply updating your annual prescription, we carry quality brand frames and work with the best lens manufacturers in the business.  Our optician, Randall Shadd,  has over 30 years of experience in the business, owning his own optical store and making his own lenses, and will help you find the perfect pair of glasses on any budget.
We will match the biggest competitors for contacts, such as Walgreens and 1-800-CONTACTS, and can have them shipped directly to your home or work. We carry popular frame and prescription ready sunglass brands such as KATE SPADE, COSTA, SILHOUETTE, JAGUAR, MARC JACOBS, JUICY COUTURE, RAY BAN, and many more.
Note: We are one of the ONLY Costa Authorized prescription sunglass specialists in Southeast Volusia County.
So, if you are considering permanent vision correction with cataract surgery, or it's time for new contacts or glasses, contact us today for an appointment, and let our friendly staff and Board Certified Ophthalmologist, Dr. Krajnyk, at Precision Eye Institute, take the best possible care of you and your eyes
Let us help you stay in focus!
So whether you have eyes that won't stop tearing or don't tear enough, you're trying out contact lenses for the first time or need a change in prescription, it's time to replace those old glasses that are scratched and falling apart, or you've been thinking about removing those cataracts to clear up that cloudy vision, Precision Eye Institute does it all!
Let Precision Eye Institute meet all your eye care needs, and exceed your expectations.
Contact Precision Eye Institute today.